Mobile Video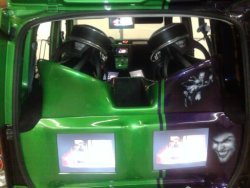 Car DVD players and other mobile video installations are one of the fastest growing ways to enhance your driving and riding experience. Whether you're interested in keeping the kids entertained during long car rides or you want to have a way to break up the monotony of your daily commute, this new technology is a great fit for any vehicle. Car DVD and video equipment is available as a stand-alone installation or in tandem with your audio system. When you trust your vehicle enhancement project to TraffiK JamZ Car Audio, no matter which products and installation options you choose, you can enjoy your favorite movies with the same picture and sound quality that you'd receive in your living room. To see our full range of car audio video products or to speak with a mobile electronics expert about designing an in-car video system that will match both your cosmetic and practical needs, call or e-mail us today. We'd be more than happy to answer any questions you may have about our complete stock of mobile video products. No matter what type of car video setup you need, our experienced staff can hook you up with the system of your dreams.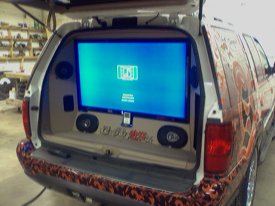 There will be no stray wires or awkward fits when you choose TraffiK JamZ Car Audio. We want to make sure that you're not only satisfied with the functional quality of your mobile electronics but also with the way they look. That's why our technicians install every piece of car audio video equipment using professional tools and proven techniques: Our goal is to make certain your car audio video components will perform past your expectations while complementing your vehicle's interior aesthetics. In addition to car DVD players and screens, we also sell a variety of video accessories, such as headphones, aux inputs, and back-up camera options. Please don't hesitate to ask for a full list of our products and to speak with our experts to get a better idea of all of the latest advancements in car video technology.
Car DVD players and screens are available in a variety of mounting positions, including:
Ceiling mounted
Headrest mounted
In-dash
Flip-down (from ceiling)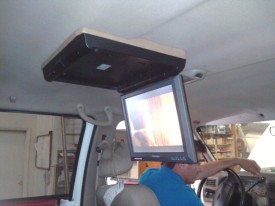 TraffiK JamZ Car Audio has been working in the car audio/video industry for more than 26 years. We make it a point to stay current on all mobile electronics and vehicle industry developments to ensure that each customer receives the very best craftsmanship available. We also have what cannot be learned in any manual: genuine passion for our craft and a dedication to our customers' complete satisfaction. For the absolute best in car DVD equipment, video accessories, and other mobile electronics, trust the team at TraffiK JamZ Car Audio. We even provide free estimates, so you can be sure that you're getting the best prices around!
Car DVD System
Car Video System