HID Headlights
If you're looking for a long-lasting, energy-efficient change of pace for your car's headlamp kit, you should consider installing HID lights on your vehicle. Offering a consistent, reliable source of light and safer driving conditions, HID headlights are the most advanced form of vehicle enhancement around. At TraffiK JamZ Car Audio, we offer a full line of HID xenon lights from the industry's top manufacturers. We have over 26 years of experience in the car audio industry, and we use our expansive knowledge to help you work through our selection of HID headlight kits to find the one that best suits your driving concerns and budget. Whether you want HID headlights that you can install yourself or a more complex kit that requires professional installation, you'll find what you're looking for right here in our showroom. To learn more about HID lights installation, call or e-mail us today!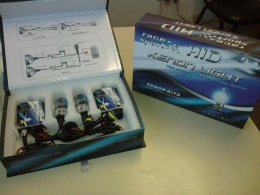 HID light kits combine scientific precision with energy-efficient technology. The electric arc emitted by HID xenon lights is produced by high-intensity discharge (HID), which takes the form of a beam of light. How does it work? Xenon gas and metallic salts mix together in a chamber; this combination is then vaporized and manifests into an arc of seemingly "white" light. The presence of xenon gas in this process explains why HID light kits are often referred to as "HID xenon lights." Additionally, the xenon gas is what makes HID headlight kits able to produce more light from less electric power—thus causing HID light kits to last twice as long as standard halogen bulbs.
Professional technicians at TraffiK JamZ Car Audio are available for HID lights installation in order to boost your car's performance and safety. A few of the advantages of HID headlights include:
Longer lifespan: While standard halogen bulbs only last up to 1,000 hours (maximum), HID headlight kits last for 2,000 hours on average. That's at least two times longer!
Energy efficiency: The combination of xenon gas and metallic salts produces more light from less power.
Reduced fuel consumption: Reduced power consumption means reduced fuel consumption—and more savings for you!
Safer driving conditions: The white light that's emitted by HID xenon lights makes for better visibility in the dark.
So if you want to save money and drive with increased safety, get your HID lights installation from TraffiK JamZ Car Audio today! Offering some of the best prices and fastest turnaround times in Denver and beyond, we offer a lifetime warranty on any installation of HID light kits. You'll find that our rates are significantly more affordable than what you'll receive from your high-end dealership, so what do you have to lose? Visit our showroom to check out all of your options!
hid lights
hid xenon lights
hid headlights