Backup Camera Installation
Whether you drive an average-sized vehicle or a large SUV, seeing clearly while backing up can be a challenge. Despite the fact that cars today have a large assortment of features to keep us safe, one key piece that is not yet required for all vehicles is a backup camera. Federal regulations may require all new passenger cars and trucks to have these devices included as standard by 2014, but currently only around 10% of new vehicles today have them. So if your vehicle didn't come from the factory with a backup safety system, installing an aftermarket rear view camera is the only way to truly be certain your path is clear when backing up.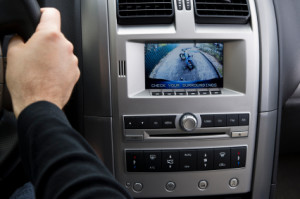 At TraffiK JamZ Car Audio, we have a large selection of backup cameras to choose from, and our experienced professionals are on hand to help you get the right system for your safety needs. We also provide superior installation service, and we work hard to ensure our customers get their rear view mirror camera or wireless backup camera customized to meet their exact preferences. To get a free estimate and to learn more, call or e-mail us right now!
The number of backover incidents that happen annually is unfortunately high. Safety statistics show that nearly 300 people are killed every year in vehicle-pedestrian collisions involving reverse gear. Nearly half of these deaths are children under the age of 5. The cause of these incidents is often due to the driver's obstructed vision. Many cars have blind spots or are high off the ground, which impedes the driver's ability to properly check behind their vehicle before backing up. When you contact TraffiK JamZ Car Audio for installing a rear view camera, you can help prevent that tragedy from happening to your family. Installing a backup camera can literally save lives! With the fair prices and quality workmanship from the dedicated team at TraffiK JamZ Car Audio, you'll be glad you have the added safety of a back up camera on your vehicle.
If you're in the market for rear view camera installation, sensors, or another backup camera system, TraffiK JamZ Car Audio is ready to help. We've been working in the trade for over 26 years, and we're proud to offer our customers top-quality backup camera installation. Come visit or contact TraffiK JamZ Car Audio today for more information!
backup camera
rear view mirror camera
backup cameras
rear view camera
backup sensors